Seeing Beyond is Talk Radio with a Mission!
2013 Predictions by psychic and medium Stacy Appel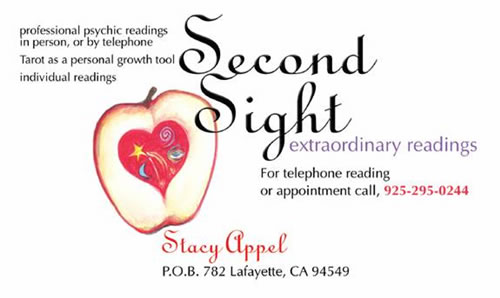 "The only way of discovering the limits of the possible is to venture a little way past them into the impossible."
(One of British author Arthur C. Clarke's "three laws of prediction")
Beginning in ancient times, humans have attempted to foretell the future using all kinds of methods - from water-divining, astrology, numerology, fortune-telling, the reading of runes or tea leaves, to dream interpretation and a variety of other methods. Clairvoyance is fascinating and very real indeed, yet when we try too hard to see ahead of the present moment, the impetus is often anxiety, a fear-based effort to control what might lie ahead. In other words, clairvoyance and worry are not good allies.
In December I walked in the woods near a reservoir in the fading winter light. In a secluded spot near the main trail, I was startled to come upon a fully decorated fir tree tucked in amidst its plain neighbors. I wondered who had spent the time packing up these decorations to bring to the woods, who had taken care to adorn this one tree so majestically with the miniature drummers, bears, painted trains and bells which hung among the pine needles. Glass orbs glowed silver or gold from every branch, and one little lopsided star winked down from the highest point. A finch alighted next to it for an instant before swooping off to a nearby oak.
The universe is full of magical surprises. So it's important to include the "divine" when talking about divination. How dull life would be without the open window of mystery! I believe we aren't always meant to race ahead to the end of the story. Courage develops as we proceed chapter by chapter, aided by all kinds of meaningful clues, gaining awareness as we explore the complex nature of our lives and destinies. It's as if we're following a trail of breadcrumbs, and a healthy psychic reading can definitely assist in that process. True clairvoyance is anchored on sturdy ground, and supports the idea that each of us has immense creativity at every moment, whether we know it or not. We help shape our individual destinies by working with our concerns, desires and fears. Developing consistent communication with one's own unconscious "wizard" is one of the benefits of regular sessions.
If you'd like to find out more about your own intriguing journey and relationships in 2013, or schedule an afterlife communication session with a person or pet, I hope you'll contact me for a Second Sight: Extraordinary Reading, in my office, by telephone or at an Expo. You can also find out more about arranging readings for a private party or event or purchasing a gift certificate by emailing or calling me.

____________________________________________________________________

About Stacy Appel
Stacy Appel, of Second Sight: Extraordinary Readings, is a professional psychic and medium who provides discriminating readings for clients internationally and teaches Tarot, intuition, and creativity classes. Her comprehensive reflection readings offer surprisingly accurate information on career and spiritual crossroads, finances, romance and relationships, animal companions, and many other topics, with a specialty in afterlife communication. She has a background in hospice and bereavement care, and her non-fiction articles have appeared in national and regional publications.
Contact Information:
Stacy Appel
925-295-0244
www.SecondSightings.com